Best Of Web And Design In September 2011


This is a wrap of the month of September featuring all best Photoshop and illustrator tutorials published throughout September, as well as a great collection of freebies and good web design articles to read. I hope you enjoy the roundup and would love to hear your feedback in the comments below.
Illustrator
It seems that the past 3 years had a boom of retro design, starting with the "cosmic neon lightning" 80's aesthetic that I think most of you are already bored about. Not just because it became a trend, but also because everyone with a photoshop could emulate one. So here's the thing, this new retro wave more focused on 50's and 60's design and illustration seems to be really different, why? Because most of it is hand drawn, and when it to comes to drawing, you wouldn't believe how many designers can't do it.
It seems that the past 3 years had a boom of retro design, starting with the "cosmic neon lightning" 80's aesthetic that I think most of you are already bored about. Not just because it became a trend, but also because everyone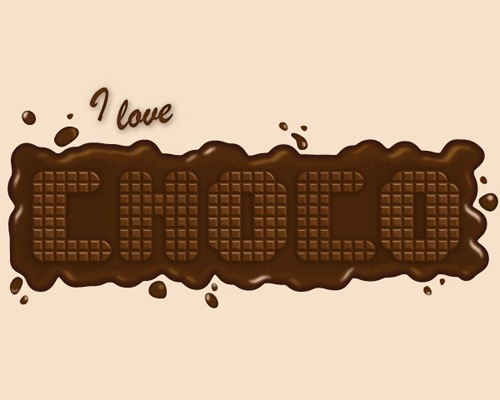 For all the chocolate lovers out there, here is how to create a delicious chocolate bar text effect in Illustrator. You will use the Blend Tool, effects like Roughen and Chrome, different Blending modes and also the 3D Extrude & Bevel effect to create perfect chocolate squares. Enjoy!
It will show you how to create the Mac Finder logo. It all start with a simple rectangle and a curved path. Next, using some Offset Path and Pathfinder options you will create the rest of the shapes. Finally, using several linear gradients along with some thick strokes and basic effects you will create your own Finder logo.
Photoshop
In this tutorial you are going to create fun, realistic, animal textured, 3D typography in Photoshop using CS5′s Repousse tool.
You will walked through a process of creating digital work inspired by older magazine fashion ads. You will learn how to use basic shapes and brushes to create an abstract background, see how layers react to one another with Blend Modes, how to create trendy abstract shapes, how Gradient Maps can be used to influence the overall design and more.
In this tutorial you will demonstrate how to create some "cool" custom typography.
Vector illustration can produce beautifully clean, precise artwork, but the results can also be a bit soulless. Here Mark Oliver creates those clean, precise shapes and then 'grubbies' them up for a more organic retro look. He also gives you a recipe for transforming shapes to fit a predefined isometric projection without having to do any calculations.
Web And Design Articles
Imagine what you could do if you had just 50% more energy than you do now. That could mean getting 50% more work done in the same amount of time, or the same work done in half the time.
Twitter introduced Bootstrap recently, a library of CSS styles aimed at web app developers in need of some design help. The toolkit includes everything from grid layouts down to buttons and modals, and works on pretty much all modern browsers, all the way back to IE7.
I was a competitive road cyclist for four years. My bikes were good, but my race results were much less impressive. Instead of medals and trophies, all I had to show for it were shaved legs and a farmer's tan.
I know that many of us spend hours searching for new and cool way to present your web page or to achieve some new and cool effect. I am giving you a collection of six must have scripts that could help you to make even better applications. This small scripts can be used as an idea of the effect or functionality you are trying to achieve.
Freebie
To continue our grateful thanks to our readers and community in general, we are glad to release a very useful freebie – Web Graphical User Interface (GUI) Kit. These GUI elements come in layered vector shapes which mean that you can easily re-size the elements without losing quality.
Mini Icons is a series 12px glyphs that are 100% shape layers, which allows the icons to be resized without losing quality. This free PSD contains 81 icons and there will be more to come!
Tri fold brochure template in clean, elegant style that will present your company services or products more attractively. Both front and back views are included in the free psd file. Our creative brochure can easily fit your needs – you just have to edit the colors, images and the text. All layers are separated and grouped properly. The tri-fold brochure is print ready (CMYK, 300dpi).
Watercolor textures have been some of the most downloaded textures I've released here on L&T, so I thought I'd bring you guys another big set to use in your work. These were created by soaking the paper in water and mixing in watercolor paint and food coloring (along with a little fake blood). I then hung them up to dry and if they needed it, touched them up with a sponge. I tried to include a variety of heaviness, from subtle ones to heavier, grungy ones.
Sponsor