January 2010 – A Thanks To Our Valued Sponsors For Their Support
An new year new sponsors our first new year edition of our monthly thank you post to our sponsors for their support throughout January, who have helped and supported Creative Nerds immensely to help increase the growth of our site.
Become one of our sponsors and get your site noticed by our readers
Creative Nerds has thousands of visitors each day and one of the main perks of becoming one of our sponsors is that your company or product will be noticed by thousands of people each month. Each Month we write a post dedicated to our sponsors thanking them for their support, making our readers aware of our sponsors and chance for our readers to learn a bit more about sponsors.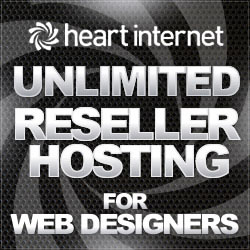 Heart Internet's Reseller Professional account is every Internet professional's dream. Specially tailored for web designers, Internet integrators, web hosting resellers and developers, our Reseller package includes unlimited web space, unlimited bandwidth and the ability to host unlimited domains at no extra charge!
ForeUI

ForeUI is a handy UI prototyping tool. It can rapidly create static or interactive, skinnable UI prototypes of your website or software. You can use ForeUI to:
Create mock-up for the GUI in your mind and make others understand quickly. Make working prototype of website or software to collect feedback from potential users. Perform usability testing before releasing the beta version. Generate the schematics that can be inserted in the design documents.

RapidxHTML is a small team of designers and developers, with a wide range of skills and experience. Each of us know our strengths and weaknesses and how these fit into the big picture.
They came together with one simple objective to offer professional XHTML / CSS markup services at affordable price. We combine expertise in eye-catching graphic layout with modern web design standards built into one of the most powerful systems in the world.

Premium WordPress Themes Club! Are developing professional wordpress themes and provide efficient support of our templates. Join the club and choose the membership that suits your needs. We are proud to invite you to the best wordpress themes club and provide you with the full access to all our themes, as well as tutorials, support and the community forum.
They create quality and professionally designed wordpress themes. They offer themes for your business, blog or personal sites. All of that comes with their excellent free support.
PSD Mall

Psdmall is a web design shop that sells unique photoshop designs. All designs are created from scratch in photoshop and are delivered in a .psd format. Psdmall is the perfect solution for newbie designers, developers, domainers, or anyone in need of a high quality design at an affordable price.

Each day, thousands of vendors use DPD to automatically sell downloads and deliver their digital products to customers. Integrating with PayPal and other popular payment processors, DPD is the quick and easy way to set up your products for automated selling.

Stockvault.net is a stock photo sharing website where designers and photographers can meet to share their images. You don't have to sign up to be able to download our images, but we'd like you to do so anyway, just so you can gain access to our special features. All images on this site are free for personal and non-commercial usage.